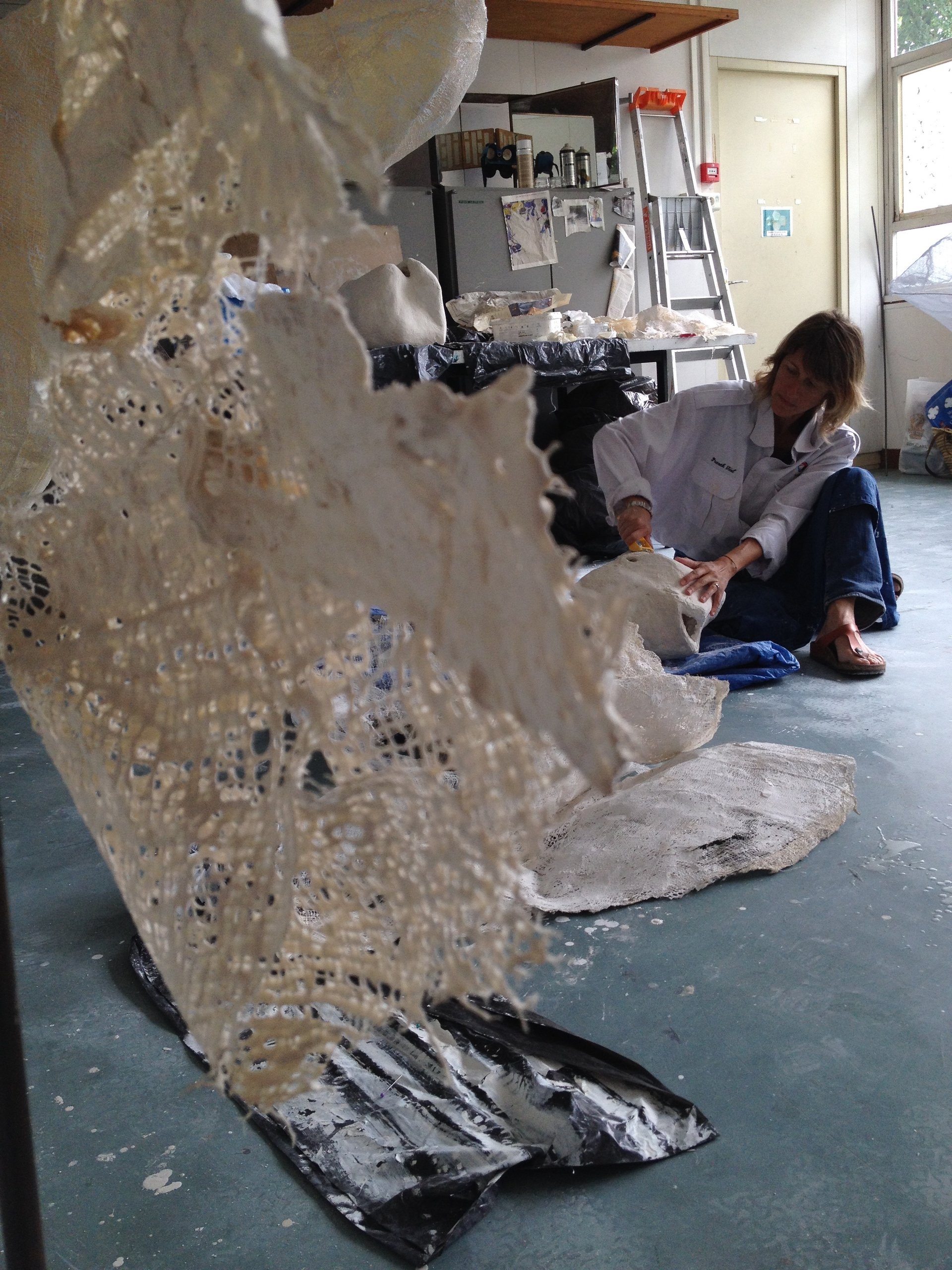 From raw materials to work of art
All my research is focused on the materials that will allow me to transcribe the lightness and fluidity of the forms I create.
Voyage en toute conscience
With the resemblance between the forest and humanity in mind, this series frees itself from the cycle of life and focuses on the persistence of things.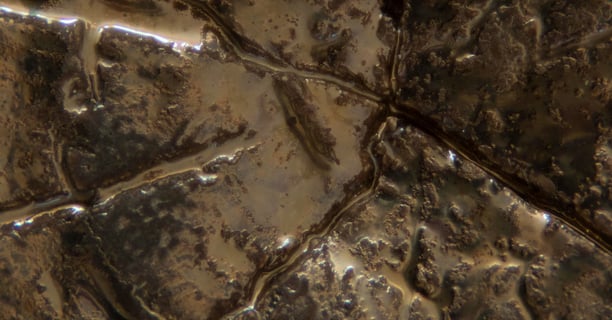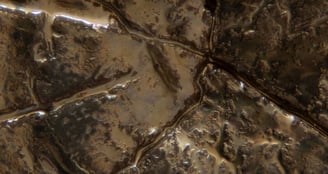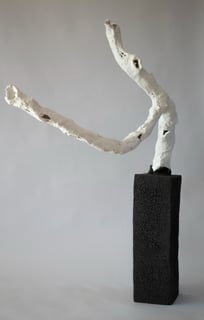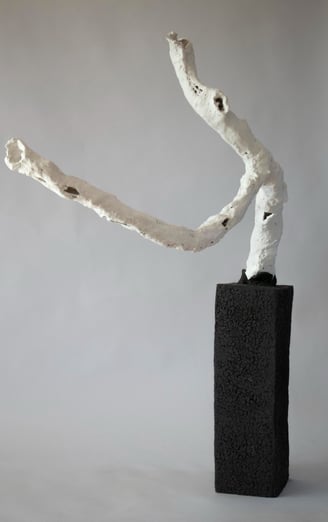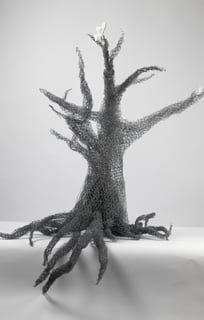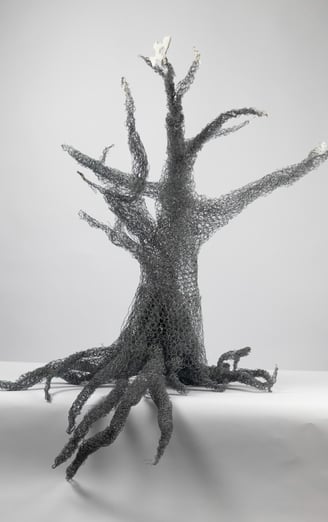 Characters all in color, shape and movement, opening their heart to the imagination.
Their story is for you to invent ...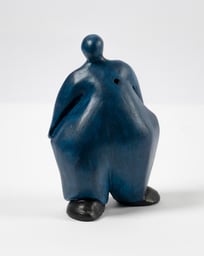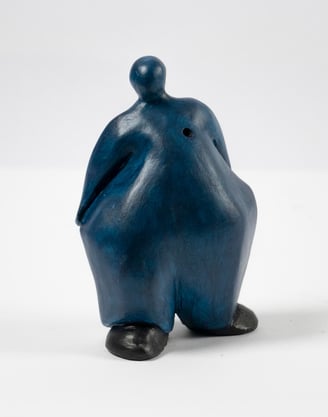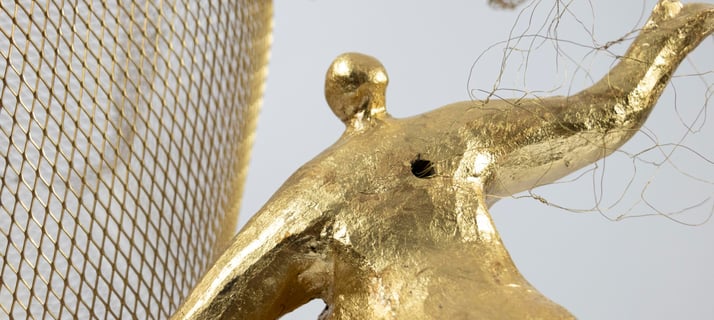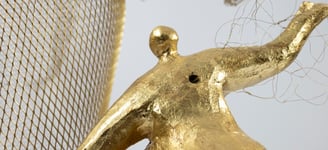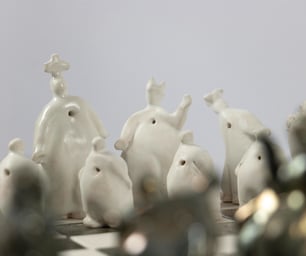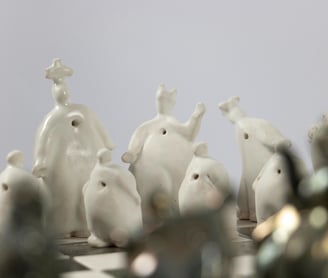 … A being travels and leaves a part of itself along the way, this continues to live through others… Like a breath of wind, this voice diffuses and spreads continuing its way, without end, without borders…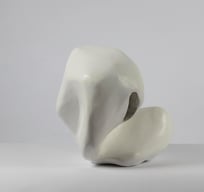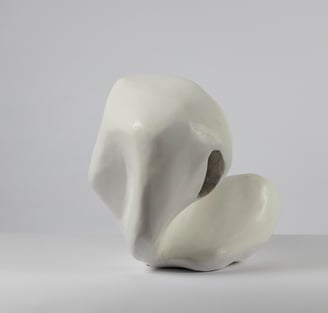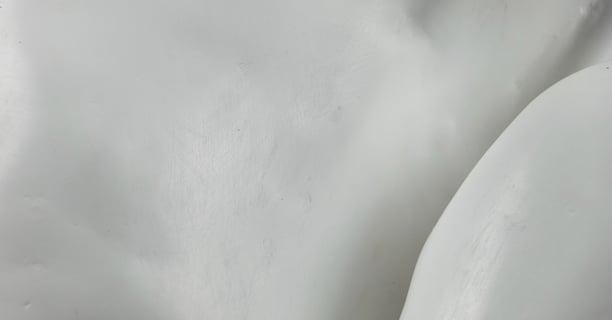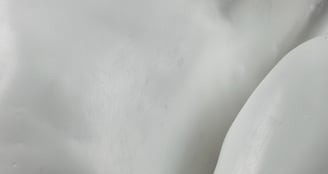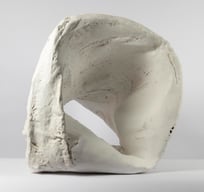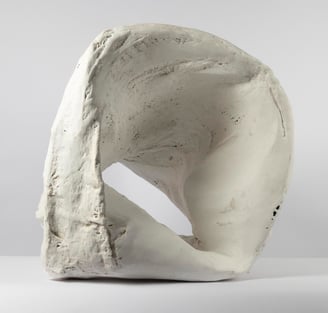 From birth to take off a life runs...
Joys and sorrows forge a being of light.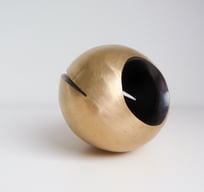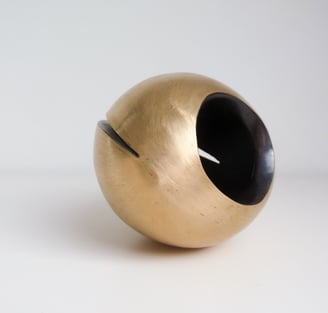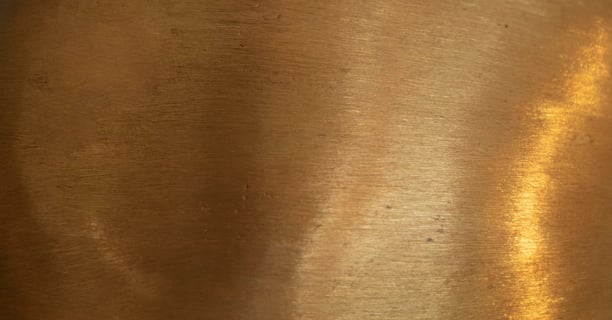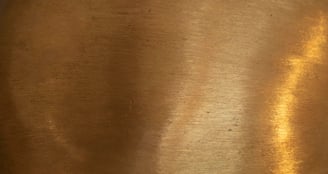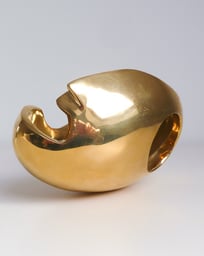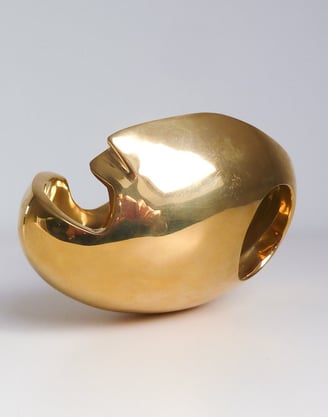 Experimental artworks and furniture design
I use some of my textures and materials discovered during my research for collaborative work with other designers to create sculptural luminaires.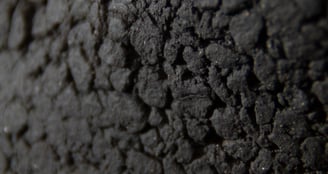 My Artwork is a long, human dialogue that I materialise in stone, plaster, clay or paper. The conversation is transient, elusive, shifting... which is why I endeavour to give it substance. My Sculptures or Art Installations could well have been anchored, positioned, however the harmony in disequilibrium seems more adapted to the message I wish to share. This is why they float, must be handled, listened to and touched.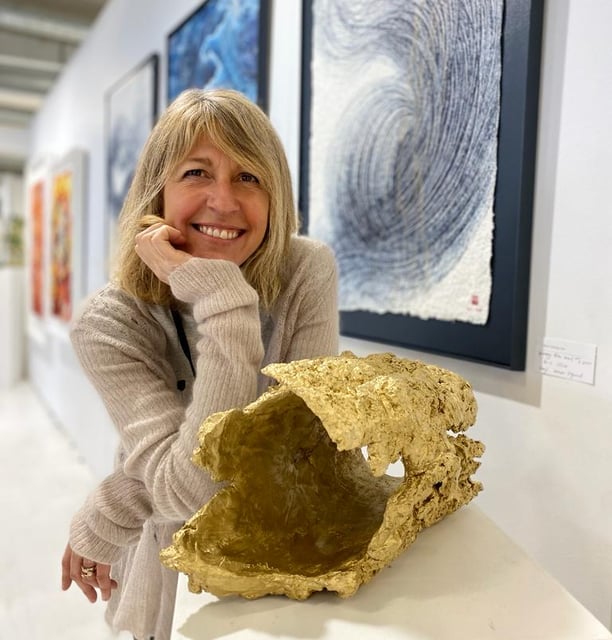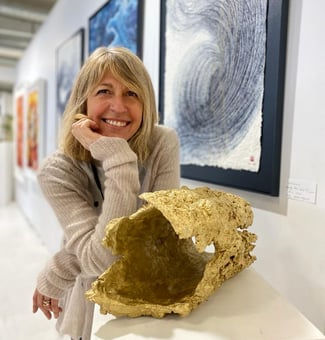 After working for a long time in figurative art, consecrating on the human body, faces, expressions, attitudes; I then turned to deconstruction, refining it to the point of sculpting in a single stroke. Today, what interests me is the Human, its quest for eternity, its need to mark the passage of time, to influence its descendants, its time, its story, its connection with others...
Having lived abroad in countries from Asia to the Middle East, currently in Geneva, I have been nourished by everything that unites human beings, despite varying climes, vegetation and customs. On reflection, being from Marseille, the crossroads of nations, my work could not have taken a path other than that of the universality of Man.
This is why I am inspired by nature and its organic shapes, fleeting, yet eternal. Forms that impose themselves upon us in all simplicity. Yet time drifts over them, day by day, as life influences our humanity, or etches lines into our skin, with differing depths.
I play with these parallels to bring out the fragility of this equilibrium and my work is lengthy human conversations that I materialise in stone, plaster, clay or paper.
The interactions I have with others are fleeting and elusive; which is why I try to give them form. My sculptures and installations could have been stable, posed, however the harmony of being off- balance seems to be more fitting to the message I wish to convey. Hence they float, manipulate, touch and listen to each other...
2023 - Artmuc with Paris Artspace, Munich Germany.
2023 - Entrelacs, exposition en binôme avec l'artiste peintre Marie Thorndahl, Art Gallery Espace Candide, Ferney-Voltaire France.
2022 - Art Montpellier, avec la Galerie Arthalia, France.
2022 - Art Cité,Installation Forêt évanescente, Fontenay-sous-bois France.
2022 - Installation "Chimère" Cloître st Louis Avignon, France.
2021 - Voyage en toute conscience, L'Orangerie du Château Voltaire, France.
2021 - Art en Campagne, Ornex, France.
2020 - Marg'rit, Maison du Pays de Voltaire, France.
2017 - Sounds of shades Pour Livre en lumière saison 2017, Ferney-Voltaire, France.
2017 - Biennale grandeur nature, Domaine des forges, France.
2015 - Calais together / Art in the jungle, Calais France.
2015 - les 24H de l'Art, Rueil-Malmaison, France.
2015 - Group Art exhibition, Design center Paris, France.
2015 - Biennale Européenne de sculpture, Domaine des forges, France.
2015 - Art Nights, Dubaï DIFC, United Arab Emirates
2015 - Souffle de la terre, Croissy, France.
2014 - Exposition du groupe les « artistes de la bastille » Paris, France.
2013 - « Même pas mal » par les « Artistes à la Bastille » Paris, France.
2013 - Exhibition with the art squad group, Abu-Dhabi UAE.
2013 - « Watchwomen And Dreamcatcher » Sofitel Abu- Dhabi.
2012 - « Art collision », 4 artistes français dans « Art Week » Radisson Royal Dubaï
2009 - « Vision d'un voyage éphémère » Waqif Art Center, Doha Qatar.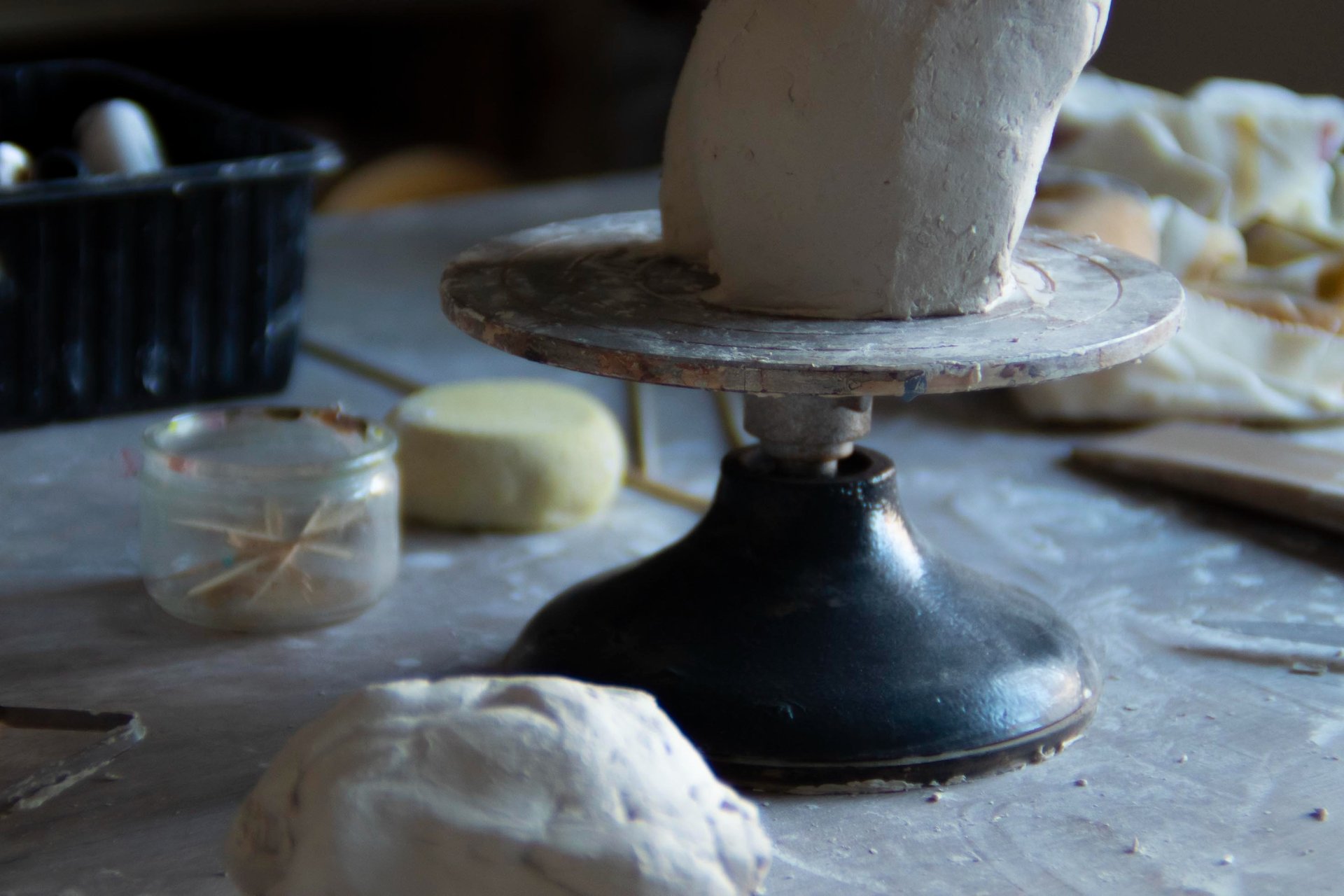 I regularly lead artistic workshops for schools or associations
If you are interested, don't hesitate to ask for my availability
From raw materials to work of art, follow me to get an exclusive look at the behind the scenes of my artwork !